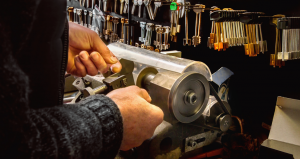 Trying to figure out what to look for in a legitimate and professional Downers Grove locksmith? If so, you're in the right place. Below, we'll discuss what indicates a good locksmith, helping you to choose one that can accommodate your particular security task.
Let's get into it, shall we?
Insurance
One of the first things to be sure of when hiring a locksmith is that he or she possesses adequate insurance to protect you from damages that may occur to your home or business while work is being done. If you hire a locksmith who doesn't have insurance, and he or she damages something on your property, you may have to pay for those damages.
When asking about insurance, it's wise to make sure your prospective locksmith has both general liability insurance and workers' compensation insurance. These insurances will protect your property, as well as the locksmiths who are working on your property.
Certification
In the State of Illinois, locksmiths are required to obtain Illinois State Locksmith Licenses. If the locksmith you're speaking to doesn't possess this license, he or she is technically doing work illegally, and should be avoided.
In addition to being licensed with the state, you might also want to make sure your locksmith possesses a certification with a locksmith organization of some kind. One of the most popular locksmith associations is the ALOA, or the Associated Locksmiths of America.
Ample Experience
If a locksmith has completed his or her apprenticeship, he or she should be experienced enough to handle lock installations, repairs, and maintenance. However, you still might want to make sure that your prospective locksmith has plenty of experience in the field.
We recommend choosing a locksmith with at least 2 years of real-world experience.
Guaranteed Work
When you pay for work to be done, you expect it to be done right. If it's not done right, you shouldn't have to pay for it. For this reason, it's wise to ensure that your prospective locksmith offers guaranteed work.
Even if a repair looks sufficient right after it is performed, there is no guarantee that it will be sufficient tomorrow. In essence, it's better to hire a locksmith who will work until he or she fully provides the services which were rendered.
Good Standing with Past Customers
What is one of the strongest indicators of a good locksmith? A positive reputation. If a locksmith has a positive standing with the majority of his or her past customers, he or she can likely be trusted to provide a good service.
A great way to gain an understanding of a locksmith's reputation is by reading customer reviews online. This is where you can find the most honest views of different companies.
Fair Costs
While the services provided by a locksmith are going to cost money, they shouldn't be so expensive that they deplete your bank account. There are plenty of reputable locksmiths out there who provide excellent work at affordable prices.
Before choosing a locksmith, it's wise to ask for an estimate of the work which is to be done. This will ensure that you are, in fact, willing to pay the amount for the services.
In Need of a Reputable Downers Grove Locksmith?
If you're reading this article, you're likely in need of a reputable Downers Grove locksmith. If this is the case, we here at Suburban Door Check and Lock Service are the people to see.
Our team of experienced and professional locksmiths is well-versed in the installation, repair, and maintenance of all types of locks. Whether you're dealing with vintage or modern locks, we can help you.
Contact us today to get started!