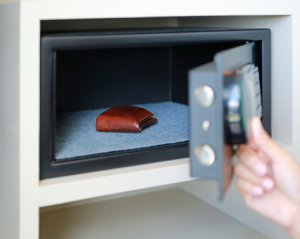 Part of living in a civilized society is keeping tabs on your important items and documents. Failure to do this can result in consequences which are annoying at best, and disastrous at worst.
How do you keep tabs on these items? A reliable method is by using a home safe. What should you be storing in your home safe in Bedford Park, Illinois? Read below to find out.
Birth Certificates
Replacing a birth certificate is both costly and time-consuming. This is why you need to keep yours secured and protected as much as possible. A home safe will keep it safe from fire, water, thievery, and general loss.
Prescription Medications
While some prescription medications are relatively harmless, others can be very dangerous when in the wrong hands. To keep thieves and children from coming into contact with your potentially dangerous prescription meds, it's a good idea to keep them locked away in a safe.
Insurance Policies
Though you can now store insurance policy information digitally, it's still a good idea to have a hard copy on hand. To ensure that this hard copy suffers no damage, it's wise to store it in a safe.
Photos
Perhaps you have some hard copies of precious photos in your possession? Maybe you have photos saved on discs? In either case, a safe can help to keep them protected from destruction and thievery.
Heirlooms
There are few things in life more precious to us than our heirlooms. These items are precious to us because they are unique and one-of-a-kind, often passed down from loved ones. Once an heirloom is lost or destroyed, it can't be replaced. This is why it's wise to store heirlooms in an impenetrable safe.
Social Security Card
While you can obtain a new social security card, the process of obtaining one is less than ideal. For this reason, you want to protect your social security card as much as possible. What better way to keep it safe and secure than with a safe?
Wills
Your last will and testament is vital in informing your survivors and the government of where your assets will go after you die. The last thing you want to do is lose it. While you might have copies on file with your lawyer, you should still keep a hard copy available for you at your disposal. Where do you keep this hard copy? Preferably in a safe.
Spare Keys
If you've got a lock, you've likely got spare keys for it. To keep these keys out of the hands of the unwanted, you need to keep them locked away. They will be virtually untouchable in the secure confines of a home safe.
Jewelry
Wedding rings. Anniversary gifts. Miscellaneous diamonds. If you have expensive jewelry in your possession, you need to keep it protected from potential thieves. Whenever you're not making use of it, you can keep it safely locked away in a safe.
Weapons
Weapons are not only expensive, they're dangerous as well. You need to not only keep them protected from thieves, but from children as well. By storing guns, knives, and other potentially harmful implements inside a safe, you prevent any tragedies from occurring.
Hoping to Install a Home Safe in Bedford Park?
Are you interested in buying a home safe? Hoping to install a home safe in Bedford Park, Illinois? If so, we here at Suburban Door Check and Lock Service are the people to see.
In business since 1963, we have installed a bevy of home safes in the Bedford Park area. It would be our sincere honor to install yours.
Contact us today to discuss your needs!