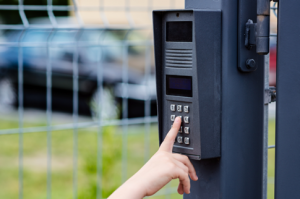 Commercial buildings can often times house millions of dollars' worth of supplies. Frequently, these are supplies which thieves would love to get their hands on. That is why, if you manage a commercial building, you need to ensure that it's properly secured.
There are a number of types of locks available to accommodate commercial buildings. Each different type of lock carries different benefits, but different drawbacks as well.
Here is a summary of some commercial door lock options in Glen Ellyn, Illinois.
Keypad
Although they have been around for quite a few years, electronic keypad locks have recently started to grow in popularity once again. As their technology has improved, businesses have started to appreciate their many benefits.
The great thing about keypads is that they don't require any keys. All you have to do to access them is remember and type in a code. If you have a lot of employees who are constantly coming and going, these locks will accommodate you spectacularly.
Providing exceptional security, they are almost impossible to pick. Their only slight downside is that they can be a little expensive to install.
Electronic Strike
If you have a front door that only needs to be locked and unlocked a few times throughout the day, you might consider using electric strike locks.
These locks are engaged and disengaged with the use of a scan card. When this card is detected, the person who scanned it is granted access.
Controlled by a remote software, these locks can be programmed to engage and disengage at desired times. This prevents you from having to go around and manually lock and unlock doors.
Exit Bar
If you manage a warehouse, gymnasium, factory, or restaurant, you might be able to benefit from exit bar locks. These locks disengage upon push contact. All you have to do to open their corresponding doors is bump against them.
These locks are great for occasions in which people must be able to get through a door quickly. For this reason, you'll often see them on fire escape doors.
Push Paddle
Similar to, but slightly different from crash bars, are push paddle locks. Unlike crash bars, push paddle locks exist on only a portion of the door as opposed to the entirety of the door. Like crash bars, they can be disengaged simply by being bumped into.
Push paddle locks are a solid choice on any type of commercial door. However, they are most often used to accommodate interior doors.
Cylindrical
A classic, non-electronic commercial lock is the cylindrical lock. Cylindrical locks are renowned for their durability, capable of withstanding a great deal of wear and tear throughout the years.
These locks are used on doors of all kinds, from front doors, to interior doors, and otherwise. In most cases, businesses will disengage these locks at the beginning of days so that their corresponding doors can be freely passed through. Then, at the end of the day, these locks will be engaged again so that no one has access.
In the vast majority of cases, cylindrical locks will be engaged and disengaged with a key. In some other cases, a button will need to be pressed in order to disengage the lock.
Looking to Install Commercial Door Locks in Glen Ellyn?
Are you hoping to install new locks to your commercial building? Looking for new commercial door locks in Glen Ellyn, Illinois? If so, we here at Suburban Door Check and Lock Service are the people to see.
We've been installing locks in the Glen Ellyn area since 1963, offering supreme service every step of the way. We look forward to helping you secure your commercial building.
Contact us today to get started!