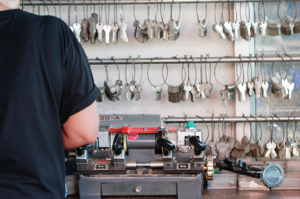 Maybe you locked your keys in your car? Perhaps you are looking to install new locks on your home or business? In any case, you're on the lookout for a reputable locksmith.
In order to choose an honest and knowledgeable locksmith, there are a number of questions you'll want to ask. Asking these questions to your prospective locksmiths will ensure that you're hiring someone who is competent and hardworking.
Here are 6 things to inquire about before hiring a locksmith in Oak Brook, Illinois.
1. How Experienced Are You?
In any field, a good indicator of competency is experience. The more experience a person has in performing a specific task, the better he or she will typically be at performing said task.
For this reason, you need to ask your prospective locksmith how long he or she has been in the industry. While a rookie locksmith might be able to get the job done, you will be better off hiring someone with at least 2 years of experience under his or her belt.
2. Do You Have Any Certification?
When hiring a locksmith, it is vital that he or she is certified in some way. While locksmiths are not required to be certified, certification proves that they are competent enough to perform the task at hand.
Generally, if a locksmith is certified, he or she will be certified with the Associated Locksmiths of America. This organization provides testing to locksmiths to indicate whether or not they are capable of completing pertinent tasks.
3. Are You Insured?
Another question you'll want to ask when talking to prospective locksmiths is whether or not they are insured. If you hire an uninsured locksmith, and that locksmith causes damage to your home, you can be held responsible for the damages.
It's recommended that your locksmith has both general liability and workers' compensation insurance. These will protect both your home and the individuals who are working on your property.
4. Can I See Recent Referrals?
If you want to get an idea as to the quality of work a locksmith will offer you, you only have to look to the past. If a locksmith is legitimate, he or she will have a bevy of satisfied customers who are willing to vouch for his or her abilities.
When speaking to prospective locksmiths, make sure to ask for referrals from these customers. If you don't want to do this, you should, at the very least, read online customer reviews.
5. Do You Offer Any Warranties?
When you pay for services, you want those services to be performed well. While most locksmiths would never maliciously provide poor service, mistakes can happen.
When mistakes do happen, you want them to be accounted for. For this reason, you need to ask whether or not your prospective locksmith offers any warranties or guarantees.
6. Can You Provide an Estimate?
The last thing you'll want to do before hiring a locksmith is ask for an estimate of the services which are to be completed. By doing this, you will avoid any surprise bills which could be levied your way in the future.
Locksmiths offer services at all different prices. Make sure you have an idea as to what you're paying.
Looking to Hire a Locksmith in Oak Brook?
Do you have a lock emergency? Are you hoping to equip your home or office with new locks? Looking to hire a locksmith in Oak Brook? If so, we here at Suburban Door Check and Lock Service are the people to see.
As a member of the Associate Locksmiths of America, we are entirely certified and insured. It would be our sincere honor to serve you.
Contact us today to discuss your needs!