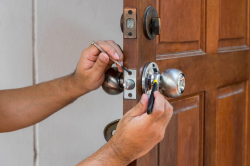 Perhaps you're moving into a new home and are wondering about the state of its locks? Maybe your current locks are on the fritz? In any case, there are times when you need to turn to professional locksmiths for service in Naperville.
Read on to see if you can benefit from locksmith services in Naperville, Illinois.
Have New Locks Installed
Your home is the carrier of your most precious items. Everything from clothes, to electronics, to your family is kept in your house, and is in need of ultimate security. This is why you need to have the best of locks on your home.
If you're building a new home or are no longer satisfied with the state of your current locks, you'll need to have fresh ones installed. How do you have new locks installed? By calling in a professional locksmith from Suburban Lock.
Any professional locksmith worth his or her salt will have loads of knowledge in terms of what type of locks are available. He or she will be able to give a consultation, ensuring that you choose the right locks for your home.
Have Your Locks Repaired
While locks rarely run into trouble, there are times when they suffer damage. Maybe they have become jammed? Perhaps they have become loose?
Whatever the case may be, when locks are no longer functioning the way that they once did, they need to be repaired. In most cases, you should call in a professional locksmith to carry out this repair.
Our locksmiths are well-versed in the mechanics of all types of locks and know exactly how to pinpoint a specific problem. They'll be able to identify and correct your lock problem in no time.
Have New Keys Made
While you can have physical keys made in a number of different places, the best place to have duplicate keys made is with a locksmith service.
Professional locksmiths are well experienced in the key-making process and will be able to deliver quality results. Having keys made by an experienced professional is much better approach than having them made by a potentially careless employee at a big box store.
Locksmiths will also be able to help you with electronic keys and locks, explaining how they work and how you can program them to properly assist you. Should you decide that locks must be changed entirely, the locksmith can do that for you as well.
Lock Yourself Out?
Have you ever locked yourself out of your home, office, or car? If so, you've likely made use of locksmith services.
Whether you've got manual locks or electronic locks, if you lose your keys, an experienced locksmith can help you. He or she can either manually disengage the lock or reprogram it so that you are able to electronically disengage it.
There's no point in smashing your windows or trying to pick your locks. Call in a professional locksmith, and you'll be making your way back into your home, office, or car in no time.
In Need of Locksmith Services in Naperville?
Are you in need of new locks? Perhaps you're looking to have your existing locks repaired? If so, you'll be well served by a locksmith. Need locksmith services in Naperville? Suburban Door Check and Lock Service is the company to call.
We've been serving the Naperville area since 1963, offering top-notch service every step of the way. If you have either a question or a problem regarding locks, we can cover it for you. If you are ever in the neighborhood, please stop by our 7,500 square foot showroom.
Contact us today to discuss your needs!