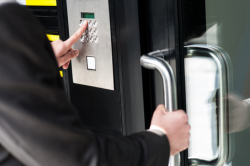 Are you moving your business into a new building? Are you hoping to update the locks on your commercial property? If so, you've got quite a few options to choose from.
There is no shortage of commercial door lock types. While each type offers its very own advantages, each type offers its very own disadvantages as well.
Here are the 5 most common commercial door locks in Naperville.
1. Electronic Keypad
One of the commercial door lock types which has grown substantially in popularity is the electronic keypad. This lock requires that you enter a designated code before it disengages and allows you to enter through a door.
These keypads are terrific because they don't require any form of key. As long as employees can remember the designated code, they can enter. In addition to this, electronic keypads are very secure. It's close to impossible to pick them as they don't have any openings through which you can jimmy a lock.
Another great thing about these types of locks is that they don't require key changes. Want to restrict access to someone? Just change the code and inform designated individuals.
2. Crash Bars
If you own a warehouse, factory, or large building, you might well be accommodated by crash bar locks. These locks disengage upon simply being bumped into, allowing you to make your way through them without the use of your hands.
You'll often see crash bars in gyms and large auditoriums. They are typically used on fire exit doors as they allow for very rapid exits.
In most cases, you'll unlock and lock your crash bars at the beginning and ending of each day, respectively. There is typically no need for these types of locks to be locked throughout the day.
3. Electric Strike Lock
Typically used on front entrance doors, electric strike locks are heavy-duty locks which contain an electronic scanning mechanism. In order for this mechanism to disengage, you generally have to run a scan card over it.
You can program these types of locks to lock at a number of different times, but generally, you'll have them open at the beginning of each day, and close at the end of each day. This allows anyone to make their way through your door whenever they please.
These types of locks are often seen at restaurants, banks, and public establishments.
4. Cylindrical
One of the most common types of commercial locks is the cylindrical lock. This is a fairly basic lock which thrives under heavy usage. Built with a great deal of durability, it is designed to take on huge amounts of friction.
These types of locks are generally opened at the beginning of each work day and closed at the end of each work day. They are often disengaged throughout the day, allowing anyone to walk through doors at any time.
There are no electronic components when it comes to cylindrical locks. In most cases, they make use of a traditional key. In other cases, they will make use of both a physical key and a push button.
Searching for Commercial Door Locks in Naperville?
If you're reading this article, there's a decent chance that you're looking for commercial door locks in Naperville. If this happens to be the case, we here at Suburban Door Check and Lock Service are the people to see.
Our team of seasoned locksmiths knows everything there is to know about modern door and lock technology. It is our pleasure to help make your commercial property as secure and as functional as possible.
Contact us today to discuss your needs!