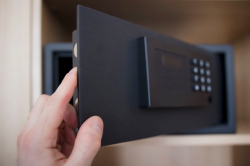 In each and every one of our lives, there are vital possessions which we must keep protected. These items include everything from money, to heirlooms, to legal documents, and more.
How do we keep these items protected in Naperville and other Chicagoland suburbs? While standard cabinets and filing systems can keep them in check, they can't keep them safe from external forces. The only thing that will keep these items safe from storms, thieves, and other dangers is a home safe.
Here are 6 legitimate reasons to have a home safe.
1. Keep Cash Safe
While most of us pay for things with our debit or credit cards, some of us still spend cash on occasion. The problem with keeping cash around, however, is that it can be stolen or destroyed.
Therefore, if you're going to keep cash around your house, you're going to want to keep it in a fully protected place. This is where a home safe comes in. A home safe will protect your cash not only from thieves, but from fire and storm damage as well.
2. Store Jewelry
Perhaps you have a diamond necklace that you want to protect from damage and theft? Maybe you have a ring which was passed down to you by your grandmother? In any case, you want to keep your jewelry as secure as possible.
Having a home safe installed in your home gives you an essentially impenetrable locker which will keep all of your valuable jewelry secure.
3. Keep Weapons Under Wraps
Do you own weapons such as guns and knives? If so, you're likely well aware of how dangerous they can become if not kept under the proper security.
Unmonitored weapons are a danger to young kids, in particular. Children often don't understand the repercussions of playing with such weapons. Fortunately, by having a home safe, you can ensure that your weapons don't fall into the wrong hands.
4. Lock Medications Away from Children
Like guns and knives, prescription medications can be very dangerous when not properly monitored. Again, they can be especially detrimental to kids.
For this reason, you need your prescription medications to be locked away securely whenever they're not being used. A home safe can achieve this for you.
5. Safeguard Vital Documents
We all have certain psychical documents which are vitally important. Everything from birth certificates, to home deeds, to wills, and more need to be protected with the utmost of security.
What better way to keep these documents protected than with a safe? A safe will secure all of your items, ensuring that they can't be destroyed, lost or stolen.
6. Protect Heirlooms
Maybe your grandfather passed down a valuable baseball card to you? Perhaps your mother left you with something meaningful? Whatever the case may be, you've got certain possessions which you hold close to your heart.
The last thing you want is for this something to be destroyed or taken. That's why a home safe is so important. Having a safe on your premises gives you a spot to store away your most personal and cherished items.
Interested in Installing a Home Safe?
Looking to safeguard your valuable items? Need a protected place to store your vital documents? If so, a home safe is what you need.
If you're looking to install a home safe in the Naperville area, we here at Suburban Door Check and Lock Service are the people to call. Established in 1963, we've been proudly serving the Chicago area for over 50 years.
Contact us today to get the ball rolling!