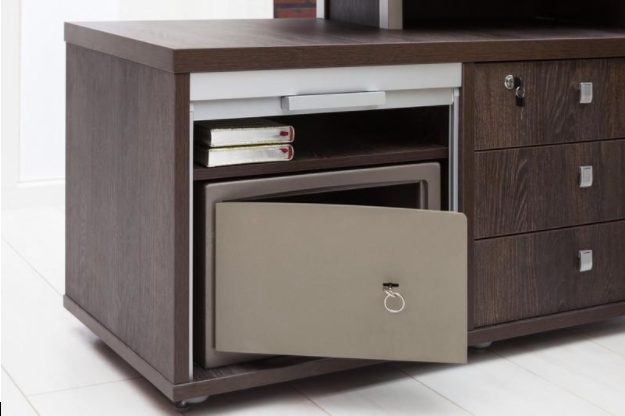 In addition to protecting your most valuable possessions from theft, safes also serve the purpose of protecting them in the event of a fire. Most commercial and residential safes in Downers Grove and Naperville on the market today are equipped with a fireboard that's similar to drywall. This fireboard can be ¼ to ⅝ of an inch thick, and it has a layer of moisture in it that is released when heated in a fire. The process keeps the possessions on the interior of your safe cooler for a longer time, and more layers of fireboard, the longer it stays cool on the interior.
In addition to this, modern safes often include a fireproof rating. However, there are a few different ratings certification agencies, which can confuse things for buyers. Here's a quick overview of different fire ratings that you'll find on residential and commercial safes.
UL Fire Ratings
UL stands for Underwriters Laboratories, which is an independent organization that's dedicated to educating businesses and the public about safety and performance of products in a variety of industries, including the safe industry.
A UL Label/Class 350-degrees Fahrenheit One Hour and Class 350-degrees Fahrenheit Two Hour certification guarantees that the safe will maintain an interior temperature of less than 350 degrees when exposed to fire for a period of one hour at 1,700 degrees or for a period of two hours at 1,850 degrees.
ETL Fire Ratings
ETL Testing Laboratories is another source of safe fire ratings. The company has been conducting performance tests since 1896, and they are internationally recognized with labs in over 14 countries. There are three different ETL fire ratings for safes:
ETL 120 Minute: ELT testing confirms that 120-minute rated safes have superior fire protection for two hours at 1,200 degrees. These safes are able to protect for such a long time because they use a fill material called DryLight, which adds protection without adding weight.
ETL 90 Minute: Safes rated at this degree have superior fire protection for 90 minutes at 1,200 degrees. They're constructed with three to four layers of gypsum board positioned throughout the interior body and door. All ETL safes are tested in the ETL-Intertek laboratories by simulating a fire that reaches 1,200 degrees.
ETL 45 Minute: Safes with this rating have superior fire protection for 45 minutes at 1,200 degrees.
Additional Fire Ratings
In addition to ETL and UL fire ratings, you'll likely encounter a couple of other types of safe fire ratings.
B-Rated: A safe that's B-rated has walls that are less than one-half-inch thick and doors that less than one inch thick. These safes earn their rating with the presence of a locking device.
C-Rated: C-rated safes have a lock, steel walls that are at least one-half-inch thick and doors that are at least one inch thick. They offer a higher level of fire protection than B-rated safes.
Contact Your Trusted Downers Grove and Naperville, IL Safe Company
If you have additional questions about safe fire ratings, we have the answers here at Suburban Door Check & Lock Service. Ever since we were founded in 1963, our locksmith and safe company has grown by focusing on top-notch customer service. We carry a wide variety of both residential and commercial safes in Naperville and Downers Grove and are happy to help advise you on your safe selection.