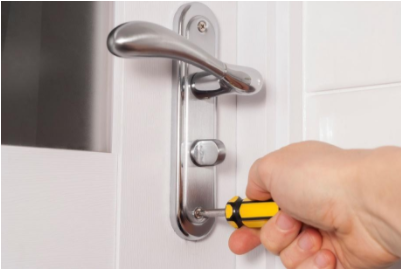 While it would be nice to live in a world where locks aren't necessary, the truth of the matter is that they are necessary.
Though most of the people living on this planet are honest, hardworking individuals who would never even think about breaking into a home, office building, or warehouse, there are a handful of seedy individuals who wouldn't even think twice about doing so. In essence, locks are a necessity.
Locksmiths offer a variety of different services, all of which serve to make your property as secure as possible. Here are 5 reasons to use locksmith services in Westmont, Illinois.
1. Install New Locks
Whether you own a home, office building, or warehouse, it's going to require locks in order to remain secured.
Locksmiths offer a variety of different lock styles. Perhaps you're interested in keypad locks? Maybe you'll be better suited with card-swipe locks? Maybe traditional key locks are what you're looking for?
Whatever the case may be, you'll be accommodated by a professional locksmith. Hiring a professional to install new locks will ensure that they're installed correctly, regardless of their style.
2. Repair Existing Locks
While they're designed to hold up for fairly reasonable lengths of time, locks will eventually begin to deteriorate. When this deterioration occurs, these locks will need to be either changed or repaired.
Bringing in a professional locksmith service will allow you to determine whether or not it's a repair or change that you need. It will also allow for your locks to be repaired on the spot if repairs are needed.
Locks can require repair for a number of different reasons. Sometimes they don't latch correctly, sometimes keys break off in them, and sometimes they freeze.
3. Change Locks
When moving into a new home, there are quite a few things which you must take care of. Changing the locks on the home is one of these things.
Regardless of whether or not you've been told otherwise, there is a chance that other individuals have keys to your property. You don't want to take the risk of unwanted people walking freely into your home.
Professional locksmiths are capable of changing your locks in two different ways. They can either rekey your existing locks or change them entirely.
4. Learn About New Lock Technology
Though you can certainly learn about modern lock technology by scouring the internet, you'll receive the most in-depth explanations of lock technology by speaking with a professional locksmith.
Locks have evolved substantially from the days of traditional keys. There are locks of all types available, from keypad locks, to electric strike locks, to electric card locks, and more.
A professional locksmith can provide you with a deep understanding of each type of lock, ensuring that you choose the right type for your purposes.
5. Lock Emergencies
Every once in a blue moon, an emergency will occur regarding your locks. This most typically presents itself as a lost or broken key.
Should such an emergency ever occur in your life, you would be best served by calling in a professional locksmith to solve the problem. A professional will have all of the knowledge and experience needed to remedy the situation quickly.
Searching for Locksmith Services in Westmont, Illinois?
Do you require locksmith services in Westmont, Illinois? Perhaps you need to replace your existing locks? Maybe you need them repaired? Whatever the case may be, Suburban Door Check & Lock Service is the business to turn to.
We've been serving Westmont and its surrounding areas since 1963. Not only do we supply and install locks of all kinds, we repair them as well.
Contact us today to discuss your needs!