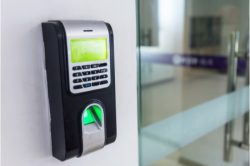 Business security systems come in a variety of configurations to meet a number of different needs. You may be used to a simple key and tumbler design, but new keypad lock systems on the market are much more technologically advanced and provide a higher level of security than traditional locks. As more and more homeowners and business owners switch from locks and keys to keypad lock systems, it's important to understand how they work. Here at Suburban Door Check and Lock Service, we're your Chicagoland home security company, installing locks and security systems for homes and businesses all around the region.
What is a Keypad Lock?
A keypad lock system is a security solution that allows people to input a code on a keypad to open a door instead of using a key. As is true in any type of door lock, keypad locks feature a latch or bolt to cross the opening between the side of the door and door frame, preventing unwanted access. This latch or bolt can be a spring bolt or a more secure deadbolt, which stays in place until manually unlocked. Locking and unlocking is achieved by rotating the knob or key in a lock cylinder to move the bolt or latch. The difference with a keypad system is that you need to input the correct code before the knob can be rotated.
Types of Keypad Locks
There are two different types of keypad lock systems: individual locks and locks that are part of a larger security system. Individual locks contain all the hardware and controls that are needed to operate the single-unit lock. On the other hand, locks that are part of a larger system draw their power from elsewhere in the building. No matter which type of keypad lock systems you use, the actual lock mechanic works by utilizing a small electrical current that releases the lock bolt.
Advantages of Keypad Lock Systems
Compared to traditional lock and key systems, technologically-advanced keypad lock systems have a number of advantages, including:
Convenience: Instead of fumbling around in your purse or pocket looking for a key every time you want to enter the building, keypad lock systems let you simply enter a code. Also, when a guest such as a babysitter or a housekeeper is visiting, you don't need to worry about getting them a spare key. Instead, you can simply tell them the code.
Security: Keypad lock systems are nearly impossible to break into, which differs from traditional key and lock systems that can sometimes be easily picked.
Changing the code: The best way to keep your home or business as secure as possible is by changing the code periodically in case somebody discovers the previous code.
Westmont, IL Locksmiths
Suburban Door Check and Lock Service is a family-owned locksmith company that has been in business since 1963. Our 28 full-time expert locksmiths now service the entire Chicagoland area with our 14 service vehicles. If a keypad lock system sounds like it's right for your home or business, contact us today.