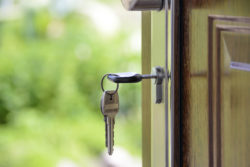 Whether you are looking for new or replacement entry door locks, there are many things to consider.
You will need to think about some of the following:
Backset – The distance between the center of the bore hole and the edge of the door, usually 2-3/8" or 2-3/4", but could be anywhere from 2" to 5".
Bore hole & cross bore – 2-1/8" & 1" standard, respectively. Doors with a doorknob and dead bolt (highly recommended) will have two sets of holes. They will be stacked on top of each other and 5-1/2" center to center.
Door thickness – standard door thickness will be between 1-3/8" and 1-3/4"
American National Standard Institute (ANSI), Builders Hardware Manufacturers Association (BHMA) – ANSI/BHMA 156.30 provides high security standards. Underwriters Laboratory (UL) 347 provides security ratings, often referenced in the security standards.
Grade 1 locks are for use in commercial applications
Grade 2 locks are usually found on residential doors
Grade 3 are usually a secondary security measure
In commercial settings, it is usually necessary to install systems that are compliant with Americans with Disabilities Act (ADA)
Deadbolt locks provide better security and there are many kinds. A key operates a single cylinder on the one side and a turn mechanism on the other, where a key is used on both sides of a double cylinder deadbolt. The double cylinder deadbolt provides greater security, but the requirement for a key on both sides could cause a safety risk, during an emergency.
There is also a dazzling array of electronic locks. Depending on how performance is measured, these type of locks may not provide you with and greater security, from forcible entry, but they do have several other features worth considering. Depending on the type of electronic locks, they can be stand-alone or they may be connected to an Access Control System (ACS). The advantages of the ACS include key control, where keys can be added and removed without re-keying the lock cylinder; layered access control, for varying times and types of access; and activity logging. Electronic locks can also be remotely monitored and controlled, to both lock and unlock.
There is a great deal more to consider when trying to make security decisions for you family or loved ones. A good way to get some help through the decision-making process is with the professionals at Suburban Door & Check Lock. In business since 1963, we have the experience and training to guide you through every step of the process. We achieved our success and longevity by offering a 100% satisfaction guaranteed on our service. Contact us today, by visiting our website, email ([email protected]) or phone (630.968.4727). You can also visit our spacious, fully stocked 7,500 showroom, at 415 West Ogden Avenue, in Westmont. Our experts are waiting for your call and eager to help.
We are members of the Associate Locksmiths of America (ALOA) and are certified, bonded and insured – IDPR Locksmith License #191000265 & 191000243. Call us today!